239 Special Black Ink for Food Bags has high temperature resistance, wide applicability for food industry, edible oil resistance, strong black color and good storage stability.It is suitable for food bags made of PE, PP, OPP, PET, nylon and other materials.

Quick Details
Type: Solvent Based Ink Compatible Brand: Other
Brand Name: INCODE Model Number: IC-L239BK
Packaging: 825ml Shelf life: 12 months
Solvent: ketone based
Production date: On the packing label
Ink character: Dyestuff ketone based ink
Place of Origin: Guangdong,China(Mainland)
Packaging&Delivery
Packaging Details: 24 bottles in each carton package
Package Size:585*405*235mm
Lead Time:Within 3 to 7 days after payment
Detailed Images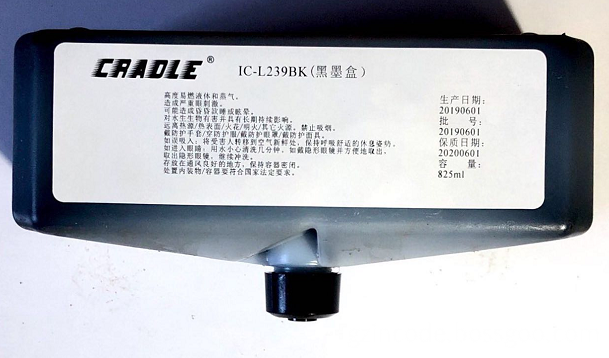 Environment & temperature
Storage means: Temperature:4-45℃
Storage condition:A dry ,cool,ventilated place ,away from fire , away from heat source ,no sunshine
Notice:inflammable against static,Avoid stimulating eyes or respiratory organs, if it get into eyes , please wash with water , then go to the hospital
Purchase Notes:
1.All ink colors can be customized according to your company's requirements.
2.All inks can be customized according to your printing requirements.
3.If the price is different, subject to salesman's quoted.
4.About the freight, it is better to consult customer service first.
Company introduction
Guangzhou INCODE marking technology co., ltd. its a high-tech enterprise ,founded in 2008, we provide the most professional industrial inkjet service and also the various type of marking equipment, For example the Continuous Inkjet Printer,Tij Inkjet Printer,Laser Marking Machine,UV printer,Egg printer,Conveyor Belt,Paging machine,Inkjet Spare Parts ,Smoke Purify Machine etc.
We have more than ten years of specializing in printing technology research experts, have many years of industry marking machine distribution and after-sales service and maintenance experience, has a technical mastery and responsive, service first-class professional team, can provide customers with various types of machine in all aspects of professional technical services and high quality professional consumables, to provide customers with mature and reliable industrial printing solutions.
We are committed to "becoming the most professional industrial inkjet code service provider" based on service and quality.